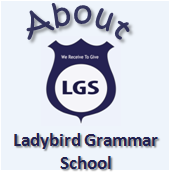 What does LGS stands for?
When was LGS established?
LGS was established in 1982
How many branches does LGS have?
How are LGS branches named?
LGS branches are named by color codes
How many zones LGS has?
LGS has two zones,North and South.
What are zones?
LGS has divided its branches according to geographical location called zones.North Nazimabad is North Zone,Clifton is South Zone.
How many branches are in each zone?
6 branches are in North Zone, 2 branches are in South Zone.
What are LGS color codes?
Green,Blue,Red,Yellow,Indigo,Rainbow,Violet,Orange.
Which branches offer Cambridge?
Rainbow branch North Zone,Violet branch South Zone.
Does LGS School have branches in other cities?
NO, currently we are only operating in Karachi city.





Your IP : 34.232.62.64
© 1982-2019 Ladybird Grammar School. All Rights Reserved.